---
Bullitt - The Movie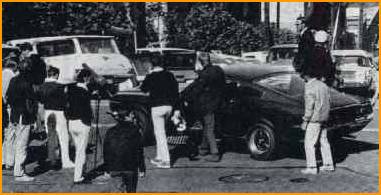 ---
I think we don't need to explain, what this movie is about.
For those who don't have a clue, the film has indeed a story, but there is no doubt about it that this is second to the chase scene with the Highland green 68 Mustang Fastback powered by a 390/4V big block engine and the black Dodge Charger 440 R/T.

This webpage was not set up for a summary of the film, but to let you have a look from behind the steering wheel and the cameras and to experience the real sentiments of being back then in 1968 bouncing down through Potreiro district of San Francisco.

Plus you can get information about the whereabout and status of the real and only surviving BULLITT Mustang and maybe a Charger survivor, if you trust in the claiming owner. So sit down on the copilots seat, buckle up, grip the mighty mouse a little bit tighter and scroll through the streets of San Francisco.
Watch out for the "ramps" to lift off. Steve must have really enjoyed it.
---
Bullitt - The Mustang

---

One of the two 390 GT BULLITT Mustangs minutes before the jumping was filmed. Actually only one had a roll bar installed.

Typically you judge a movie by its actors. Although Steve McQueen attracted a lot of viewers, there was one dark thing in the trailers and preview action shots, that caused people to raise their eyebrows. After leaving the cinemas, most people agreed, that the main starring actor of this famous movie was - The 1968 Mustang Fastback GT.

Simply painted Highland green and mean. Without any major chrome items. Brute.
The modifications done by Max Balchowsky, a friend of Steve and originator of the famous "Ol Yeller" took about 5 weeks. You can read more details about these modifications in the report of BULLITT expert David Kunz later on.
2 Mustang 390 GT were built and sponsored by FORD, both of them with exactly the same equipment acc. to Kevin Martis (Marti Auto Works) VIN research in the Ford production data files. Both reports can be obtained for a fee from Kevin, if you don't believe us.

The two BULLITT Mustangs had consecutive VINs and the same equipment.

According to an interview with Steve McQueen, one of the Mustangs was almost disintegrating during the jumps and had to be worked on a lot. It is rather likely that this car had been wrecked afterwards due to structural problems and liability concerns. We were in contact over the years with somebody who saw both cars at the studios after the movie, one being ready to go to the wrecker.

BULLITT insiders already know since years that only one car survived finally. This surviving car with VIN 8R02S125559 has been unearthed by a Mustang maniac more than a decade ago after lots of stories embraced the myth of the original car.
There was little known in the Bullitt world about the second owner, but we had some hints on the name and his profession. Brad Barnett finally found in April 2010 the second owner. In that article in Mustang Enthusiast he writes about the ownership and documents he had been shown at his home.

As of 2010 the car is still in the hands of its third owner. It had been stored for a long time in a barn in Kentucky, where a "spy" spotted it and took photographs which are in the hands of David Kunz, but they are not published for obvious reasons and in respect for the owners and and the "spys" family.


The main problem that seems to exist for many BULLITT enthusiasts is that the owner does not want to let it be shown to the public. It is said that the owner gave his family a promise to keep it, so we all have to wait, until he or his family later on gets bored of rejecting offers. Still we know it's a true father-son very private issue, so there is little we should comment or criticize. In fact it adds a lot to the mystery. No movie car has ever grown to that fame, when it was displayed in a museum. And I personally hope, it remains hidden for a much longer time, though only a few might understand my viewpoint.

If ever - and the rumours were strong in 2008 that it would appear - it would make sense to store it somewhere in a fake barn, where you can just glimpse through a small hole into the darkness. Pulling it into the light will certainly destroy something of the mystery, so we have to be thankful in fact to the owner as of now.

For the time being, we have to live with what people call replicas, look-alikes or - even fakes out there. While Replicas and look-alikes should be considered as the owners late realization of their childhood dream car, fakes and frauds that are offered to other not-so-knowledgeable enthusiasts as the real thing are a big concern. We have to beware beginners of such mistakes. If you are aware of any such advertisements, care for public awareness. This site has even been threatened with legal prosecution for pointing to two fakes being advertised as the true BULLITT car, but we'll continue in doing that, if necessary.

The late Mr. Max Balchowski*, who modified the cars for the film, once said that there are a lot of phony Bullitt Mustangs out there running around." We have also word of several cars that have been auctioned or sold by WB employees as the real deal soon after the movie ended. That's where the myth about the many fallacies started.
*Max Balchowski died in 1999 acc. to a UK magazine.